Hear from our patients- Peter & Damian reflect on the Kokoda Trail
Damian and I have completed our trek of the Kokoda track-  from North to South in just over nine days. We trekked with Back Track Adventures and were ably led by Sarah and her porter team who were predominately from the Naduri Village.
The track is a single trail with continual ups and downs and many false peaks which can be mentally challenging. Some days we were on the track for up to 10 hours. One positive is that it is one of the few tracks I have been on that is specifically for trekkers; a lot of the places we visited could only be reached by walking.
After rain the track becomes incredibly slippery. Tree roots become slippery slides and boots either disappear in the mud or slip right across. You end up on your backside several times so be prepared for the cuts and abrasions that can accompany these falls.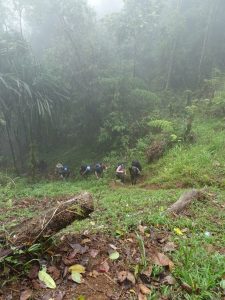 You will get blisters. There are many techniques for preventing and treating blisters and you need to source the best solution before you go and be ready with the treatments. Having well worn in boots is of course critical. Having a good pair of reef sandals is also important as one day we spent two hours wading through a creek bed. Sandals were also important for around the campsites to help our feet recover at the end of the day.
There is no treated water on the track but plenty of running water available in creeks and rivers. We found the Fill2Pure water bottles very convenient in the camp sites and used water purification tablets in backpack water bladders for daytime trekking to stay hydrated on the trail. We also used tablets to make up hydralyte solutions to replace the salts from the continual sweating.
It is impossible to get dry on the track as during the day it either rains or your clothes become sweaty from the humidity. Overnight when the temperature drops dew forms on anything hanging outside. Each morning meant getting into wet, smelly clothes. We were lucky in that we didn't get much rain whilst trekking. When it did rain we didn't bother with rain coats as we were wet from sweat anyway and were warm enough. However, it is worthwhile having a pack rain cover and dry bags in your pack to at least keep one set of clothes dry.
When the sun did come out is was very hot and sunscreen and a hat was a must. I highly recommend having sunscreen readily available as the environment can switch from overcast to clear and jungle to open track very quickly.
We didn't have any trouble with diarrhoea which I am sure was in part to having hand sanitiser readily available and of course treating the water.
There were mosquitoes on the track, particularly in the low-lying areas at the start and finish. Malaria is a real concern and a trip to a village medical centre confirmed that is was their number one medical issue. Having repellent readily available and applying it religiously was key. Some members of the team had visible mosquito bites so hopefully they weren't malaria carrying. Of course, taking malaria tablets is a must.
Muscles that you didn't know existed will hurt so make sure you have a good supply of anti-inflammatories and muscle and joint pain creams. My knees took a particular beating with the downhills. Having trained on similar terrain and being fit will make the trip much more enjoyable.
The trek was an enjoyable experience and for me a great opportunity to walk in the steps of the young, brave Australians who gave their lives to protect our country. We visited many of the key sites in the Kokoda campaign and had a moving ceremony at Brigade Hill to remember the fallen. Peter FitzSimons "Kokoda" is a must read to understand the full context of the Kokoda campaign.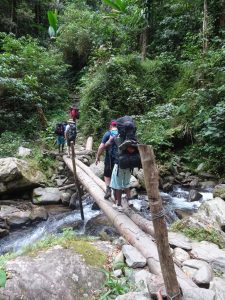 The villagers on the track were shy but friendly and we spent an enjoyable rest day attending church and playing with the children in Naduri village. They have wonderful voices and love to sing and we had a number of 'sing sings' during the trek. Audience participation was always encouraged so make sure you learn the words to Advance Australia Fair to avoid embarrassment.
I would like to thank the Fremantle Travel Health Plus team for getting us medically prepared for the trip and contributing to us returning sore but healthy.
Peter and Damian.